Frequently Asked Questions
How long does it take to paint a mural?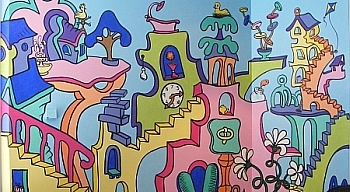 How much does a mural cost?
How does the mural process work?
Do you work with other professionals?
What about surfaces?
Does a mural have to be done on site?
What materials do you use?
Where are you based?
What do you paint?
Is all work original?
How long does it take to paint a mural?
The time taken varies with the area to be painted and the style of the mural.
Some styles are relatively fast to paint - for example the 3.0m x 2.7m Seuss-style town above took 24 hours. Others like the marine mural will take longer, as each individual element is quite detailed. My philosophy is to deliver a high quality finished product, which may take a little longer to complete, but provides the customer with a finished piece that will have the 'wow' factor.
Most murals take between 4 and 10 days depending on work hours available. I am happy to work out of hours to fit in with businesses. If exterior work is a part of the project, the weather may obviously affect time frames.
Back to Top
How much does a mural cost?
It depends on the area to be painted and how long it will take.

As discussed above, some styles are more time consuming due to detail and consequently will cost more. My hourly rate is around $35, less than many house painters! A detailed, individual character on a wall may cost as little as $75. You will of course receive a full, fixed-price quote for your prospective project, and of course I'm happy to work with you to tailor the final project scope to suit your budget.
There is no cost involved in getting a quote and I'll always provide you with initial sketches (for which there is also no charge unless very detailed drawings are required, in which case there will be a small charge). The quote will be inclusive of all material and labour costs, and is fixed for three months.
Back to Top
How does the process work?
Initially I will come and visit the site with you and we will discuss the area to be painted, the condition of the walls, the light in the room and any existing colour scheme. We'll chat about your ideas, and if you have some pictures or photos to help develop the theme then they'd be very useful to have at hand. If you haven't decided on a theme, we can explore the options together to come up with some ideas. I will then draw up some sketches and colour schemes and bring them back to you to see if they are what you are looking for. At this time I'll also provide you with costings for the options I've developed for you. Once you're happy with the theme and the budget, I'll provide a formal quote for the project for your final consideration.
It may be that you have a few different ideas for themes, in which case I'll develop sketches for each option. If you decide to go ahead, we will book in some times and dates to get started - these will be secured on receipt of a 20% deposit.
Back to Top
Do you work with other professionals?
Yes, definitely - I am very happy to work with any other professionals that you may be using (e.g. interior designers or painters), in order to provide you with an original art work that complements your overall project aims.
Back to Top
What about surfaces?
Most surfaces that can be painted will be suitable for a mural, however if the surface is very rough it is not always possible to achieve detailed work. Most interior walls are fine, and it is preferable to pre-strip wall paper (though not essential).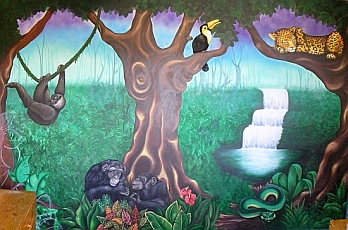 It may be necessary to apply a base coat that will suit your design (e.g. cartoon town designs need to have a white base coat so that the brightness of the colours is emphasised). If you would like to do the base coat yourself beforehand, then that's fine - it'll help to keep the cost down! Also if there are areas of broken plaster, nails etc then they need to be fixed or removed. Again, you can either do it yourself or I'm happy to include the cost of wall preparation in the quote.
Outdoor surfaces that are rendered will also hold murals well, just make sure there has been at least three months since the render was applied. If a surface is very rough, it may be worth considering using a removable board and attaching it to the wall. This has the added advantage of being transportable if you move location.
Back to Top
Does a mural have to be done on site?
No, murals can be painted on board or on canvas and transported to your site. Again this gives you the advantage of being able to move the mural with you when you move. I can send images to you as the work progresses so that any alterations can be organized early if they're needed. If you are happy to install the work yourself I am happy to come out once it is installed to do any final touch ups, or if you'd prefer I can source someone in your area to hang the mural. Along with being transportable, this method can reduce disruption at your home or work place, and is worth considering.
Back to Top
What materials do you use?
I primarily use Solver Brite-Glow paints that are Australian made and specifically designed for use by signwriters and scenic artists, however I also use some artists' acrylics. All paints used are non-toxic and have little odour, but of course all paints have some smell and this is a consideration if you are having a project completed in business hours. I am also happy to add an acrylic sealant to cover the work which will prolong the lifetime and durability of the mural, though it is not essential.
Back to Top
Where are you based?
I am based in the north east suburbs of Adelaide, and am happy to travel locally, or negiotate for further distances. Considering transportable murals may also help you. As my children are becoming older and more independent, I can consider work further afield.
Back to Top
What do you paint?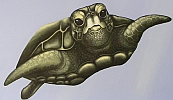 I am happy to paint walls, floors, ceilings, rugs, canvases, boards, screens, furniture.. In fact, most things!
Having experience in theatres both here and in the USA has provided me with the opportunity to create some unusual pieces.
I'm comfortable working with many different materials, and try to always achieve that special attention to detail. I enjoy new challenges - so, surprise me!
Back to Top
Is all work original?
Yes, all pieces are unique - no two walls are the same, and all clients come with their own unique perspectives and ideas. If you have seen a piece of my work that you particularly like, or you want to follow a general style, or if you really like specific individual elements you've seen (maybe you're a turtle fan!) - then we can use that as a basis for your own project... but the final result will always be your own, unique piece.
Back to Top